EJP SOIL Masterclass on Soil Data Assimilation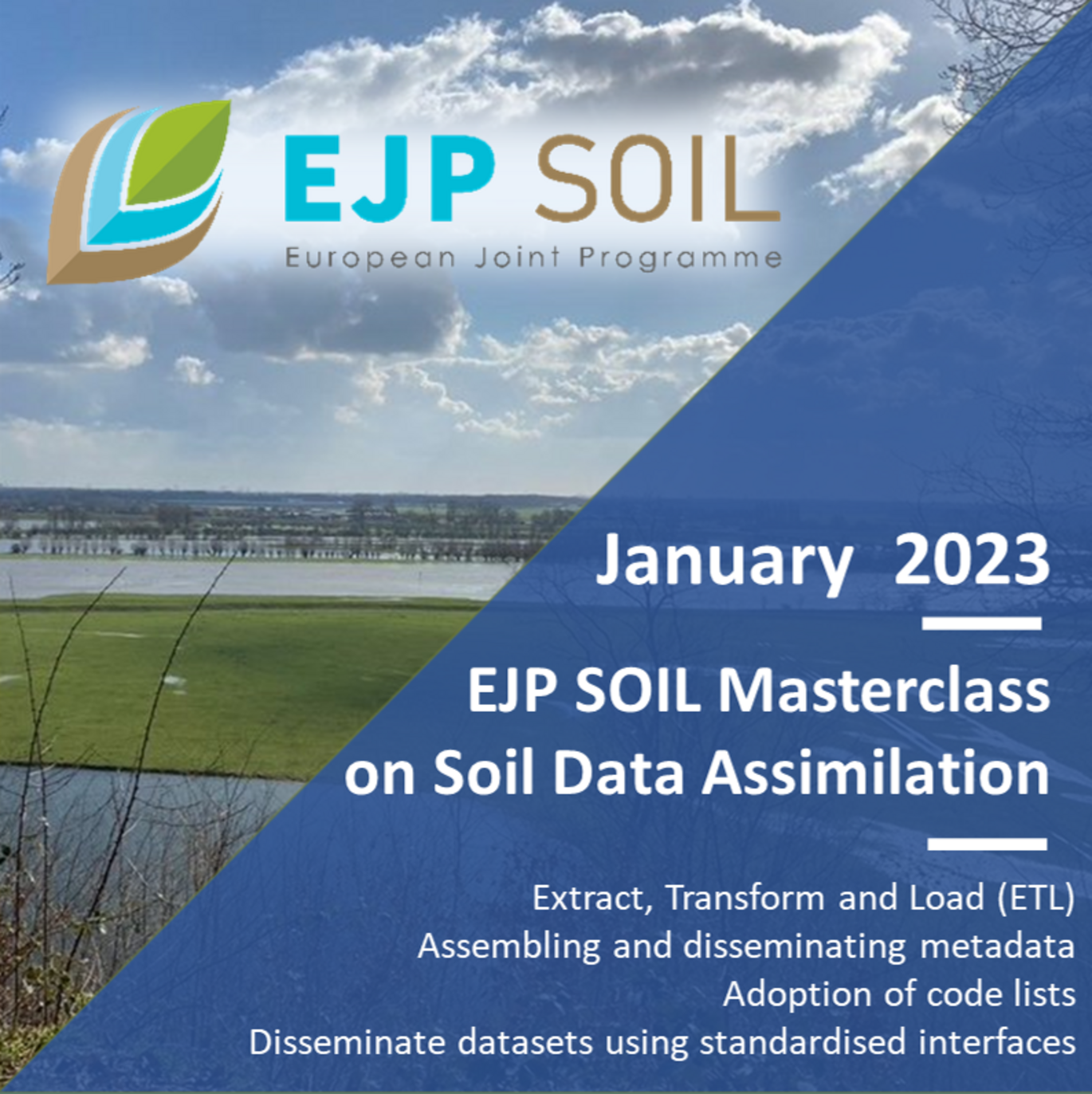 Info about event
Time
Tuesday
24

January 2023,

at 00:00
- Thursday
26

January 2023,

at 00:00
Register
No later than Wednesday
18

January 2023,

at 00:00
EJP SOIL Masterclass on Soil Data Assimilation
In January 2023 EJP SOIL is organising a follow-up of the successful training for information providers on harmonising soil data and publishing it online according to INSPIRE best practices (April 2022). Evaluations from the last training suggested a more hands-on and practical approach. During this masterclass soil datasets, brought in by participants, will be prepared and assimilated towards a harmonised pan European dataset. The masterclass invites both starters, with an ambition to get familiar with the relevant technologies, and soil data experts, bringing in their experiences in soil data assimilation and dissemination. Participants are invited to contribute datasets to be processed during the masterclass.
The masterclass focuses on four topics relevant to data assimilation:
Extract, Transform and Load (ETL)

: the process of transforming a dataset from a source model to a (standardised) target model and/or format.

Assembling and disseminating metadata

: essential for data discovery, but also facilitates the ETL process.

Adoption of code lists:

referring to generic soil analyses practices, and extending generic code lists to facilitate local practices.

Disseminate datasets using standardised interfaces:

the traditional OGC web services, or the newer RDF and OGC API good practices.
Each topic will start with a general overview, then participants will be working in subgroups on implementing the topic on a contributed dataset of a participant, in a technology they are most familiar with. Experts and cookbooks on various technologies will be available to guide the process. Every topic is concluded with elevator pitches from the subgroups highlighting their results and learning points.
For the following technologies expert support will be available:
| | |
| --- | --- |
| Category | Technology |
| Databases | GeoPackage/SQLite, Access, PostGreSQL, MySQL |
| ETL | SQL, Hale Studio, GDAL |
| Metadata | GeoNetwork, pygeometa, pycsw |
| View and download services | GeoServer, Mapserver, Hale Connect, pygeoapi, Frost server, Rasdaman, |
| Semantic web | TarQL, RML.io, SPARQL, Virtuoso |
| Code lists | SKOS, skosmos, Re3gistry |
| INSPIRE tools | Reference validator, Geoportal, Link checker, various Quality of Service tooling |
| Soil mapping | R, grass gis, gdal |
| GIS Desktop | ArcGIS, QGIS |
This masterclass builds on an initial training intended to guide national soil information providers towards INSPIRE compliance, which happened in April 2022. Materials from that training are still available via this link. The upcoming training is scheduled for January 24-26 2023 in Wageningen NL.
Click here for the registration form. Contact paul.vangenuchten@isric.org if you have any questions.