EJP SOIL supporting a strategic approach to Soil health in Northern Ireland
Nearly three quarters of Northern Ireland's Agri-Food produce is sold to markets outside the province, making an important contribution to the economy. Participation in the EJP SOIL project has been part of a strategic response by policy makers to the needs of the Agri-food industry in Northern Ireland following an expert report in 2018.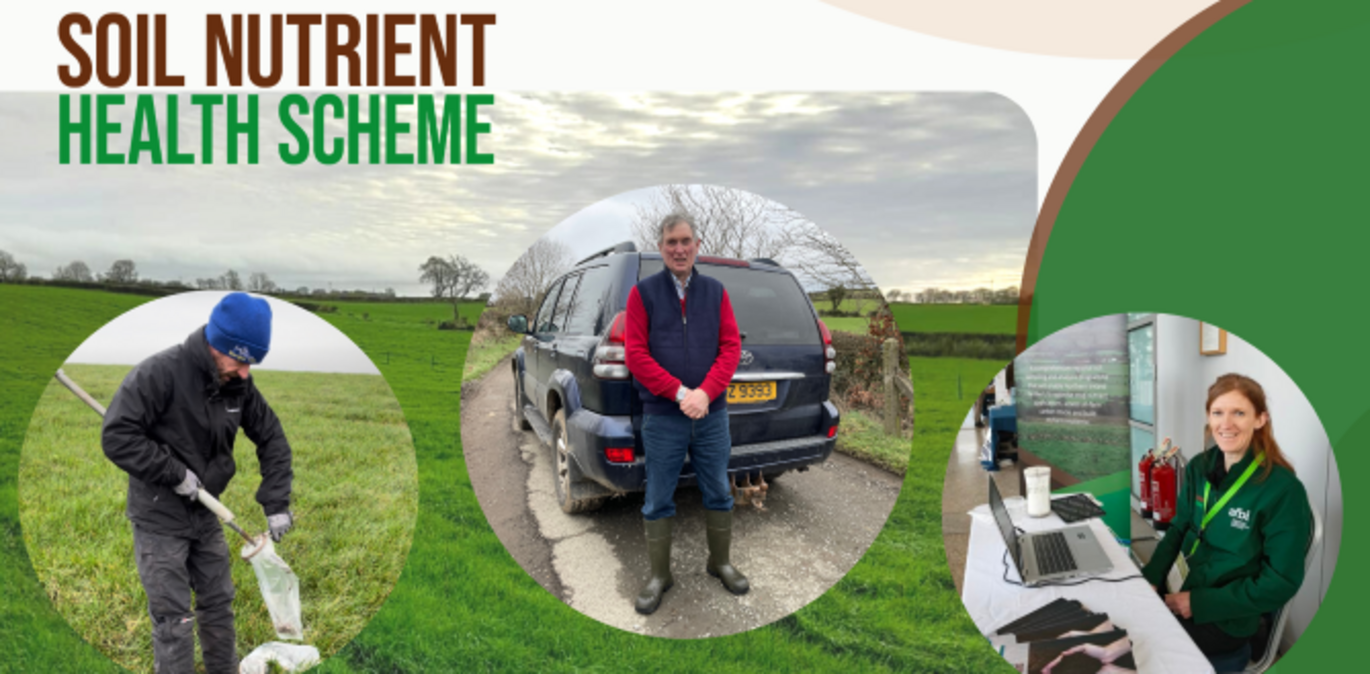 Here we present the progress of another initiative which has brought action on soil health to the attention of farmers, land managers and wider audiences across the region, creating an appetite for research and further knowledge.
In May 2018 an independent expert working group delivered the report "Delivering our future, valuing our soils: A Sustainable Land Management Strategy for Northern Ireland" which set out recommendations for improved environmental performance alongside economic growth. In response the Department of Agriculture, Environment and Rural Affairs (DAERA) is funding a £45m (€52m) Soil Nutrient Health Scheme (SNHS), which runs from 2022-2026 and is managed by the Agri-Food and Biosciences Institute (AFBI).
The Soil Nutrient Health Scheme
The Soil Nutrient Health Scheme (SNHS) is a comprehensive regional soil sampling and analysis programme in Northern Ireland that aims to sample 700,000 fields over a four-year cycle. The scheme will provide farmers with a valuable baseline of knowledge on their farms, enabling strategies for improving the sustainability of the region-wide soil resource, agriculture, and the natural rural environment. Sampling in the first of four zones will be completed in early April 2023.
Participating farmers receive detailed information on the nutrients in their soils and, for each field sampled, maps showing the risk of runoff to waterbodies. They will also be provided with estimates of the carbon stored in their soils and in above ground biomass (trees and hedgerows).
More than 50,000 results have been sent to farmers so far and training by regional advisers based in the College of Agriculture Food and Rural Enterprise (CAFRE) is available on how to interpret soil nutrient reports and to support the implementation of Soil Nutrient Plans.
SNHS milestone reached
The ambition of the scheme "to sample every field in Northern Ireland" has captured wide interest and its progress is regularly featured in regional news programmes. In February, BBC Newsline reported from a farm in Dromara, Co Down as sampling reached the milestone of 100,000 fields sampled out of the 700,000 targeted. Dr Rachel Cassidy, SNHS Project Lead (AFBI) explained that the scheme would help attain optimum nutrient levels and reduce excess nutrients entering waterbodies.
YouTube link: https://bit.ly/SNHSNewslineFeb23

Dr Rachel Cassidy (SNHS Lead - AFBI, interviewed for BBC Newsline)
Farmer Engagement Workshops
Dr Suzanne Higgins (AFBI) has participated in a number of workshops for farmers and farm advisors between November 2022 and February 2023, and found farmers keen to learn more and build on the knowledge gained.
Dr Higgins commented "Farmers participating in the workshops in their local area were enthusiastic and interested in learning how they could manage nutrients on their farm to improve soil health and also to protect the local environment. The workshops provided a forum through which farmers could ask questions and share experiences with soil management".
Global Soil Biodiversity Conference 2023
The SHNS team attended the Global Soil Biodiversity Conference in Dublin #GSB2023 in March and found European partners keen to discuss lessons learned from the scheme. There was also much interest how it could be translated for application in other regions.
---
For further information:
Contact: E: snhs@afbini.gov.uk T: 028 90 255 212
W: https://www.afbini.gov.uk/articles/soil-nutrient-health-scheme
---