Internal online workshop: Conducting a meta-analysis in soil science
The workshop offers lectures, demonstration of different tools helping to deal with missing data and practical exercises.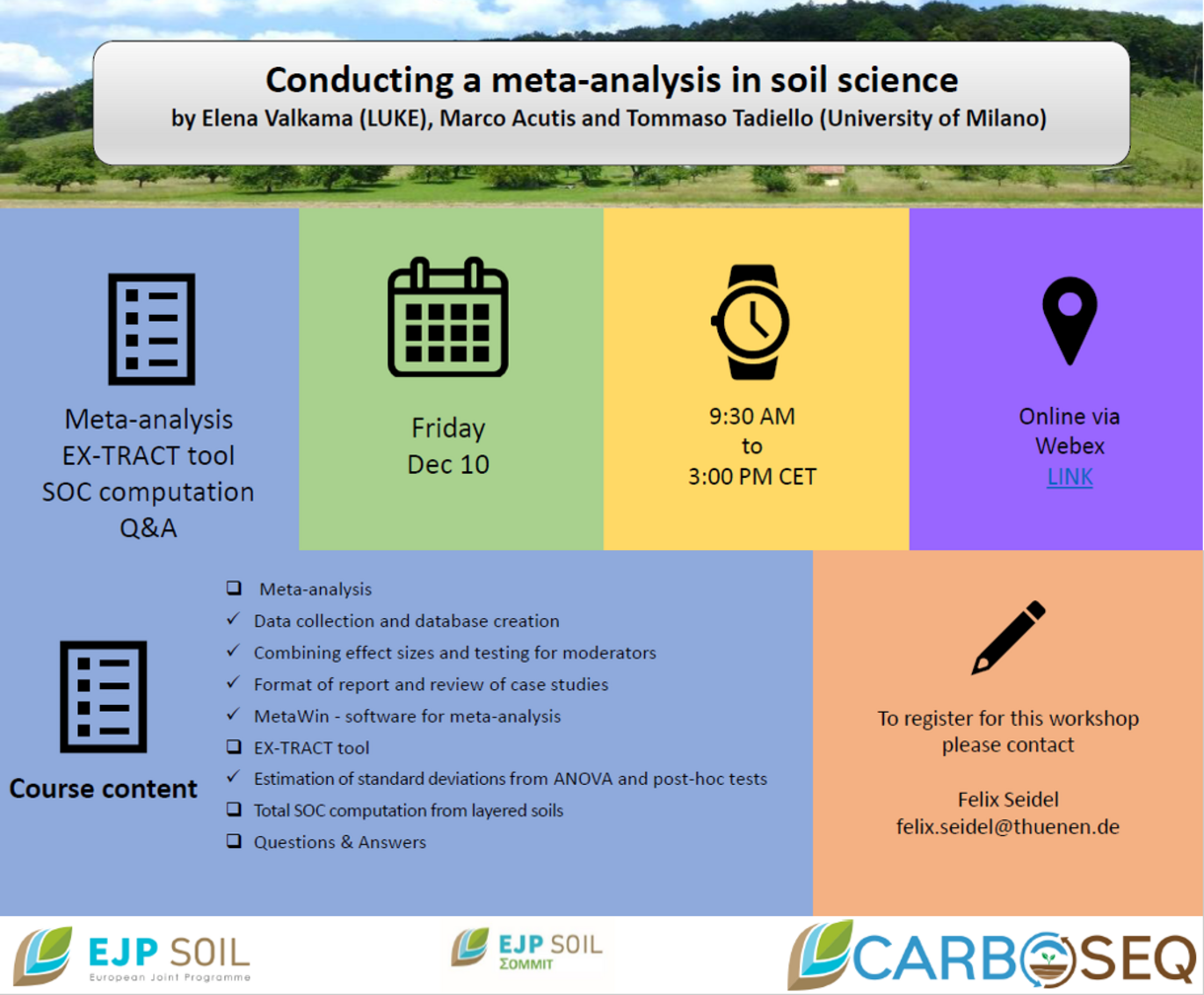 Info about event
Time
Friday 10 December 2021,
at 09:00 - 15:00
The 1-day online workshop "Conducting a meta-analysis in soil science" is dedicated to EJP SOIL consortium members
---
TO REGISTER FOR THIS WORKSHOP, PLEASE CONTACT FELIX SEIDEL: felix.seidel@thuenen.de
---
First Session from 9:30 to 12:00 CET:
Advanced Systematic literature search and meta-analysis:
What is meta-analysis?
Application of meta-analysis
Initiating a meta-analysis: question formulation and data collection
Type of data and their conversion to effect sizes
Non-independence of observations
Combining effect sizes, weighing, and testing for moderators
Format of report and review of case studies
Examples of problematic meta-analyses
Publication bias
MetaWin - software for meta-analysis
---
Second session from 13:00 to 15:00 CET:
How to include more studies in your meta-analysis:
Using EX-TRACT tool for estimation of standard deviations from ANOVA and post-hoc tests
Using SOC calculator to compute total SOC stock and its standard deviation from layered soils
---
There will be time for questions and answers.
Participants will get presentations, meta-analysis handbooks, MetaWin software, the tools and user manuals.
---
To register for this workshop please contact Felix Seidel: felix.seidel@thuenen.de
---