New EJP SOIL projects strengthening international cooperation
8 new research projects and expertise from 63 partners join the efforts of enhancing the impact of the EJP SOIL programme. The objectives are to deepen our understanding of soil restoration practices, managing soils in the context of climate change, and the development of innovative methods and sensing technologies.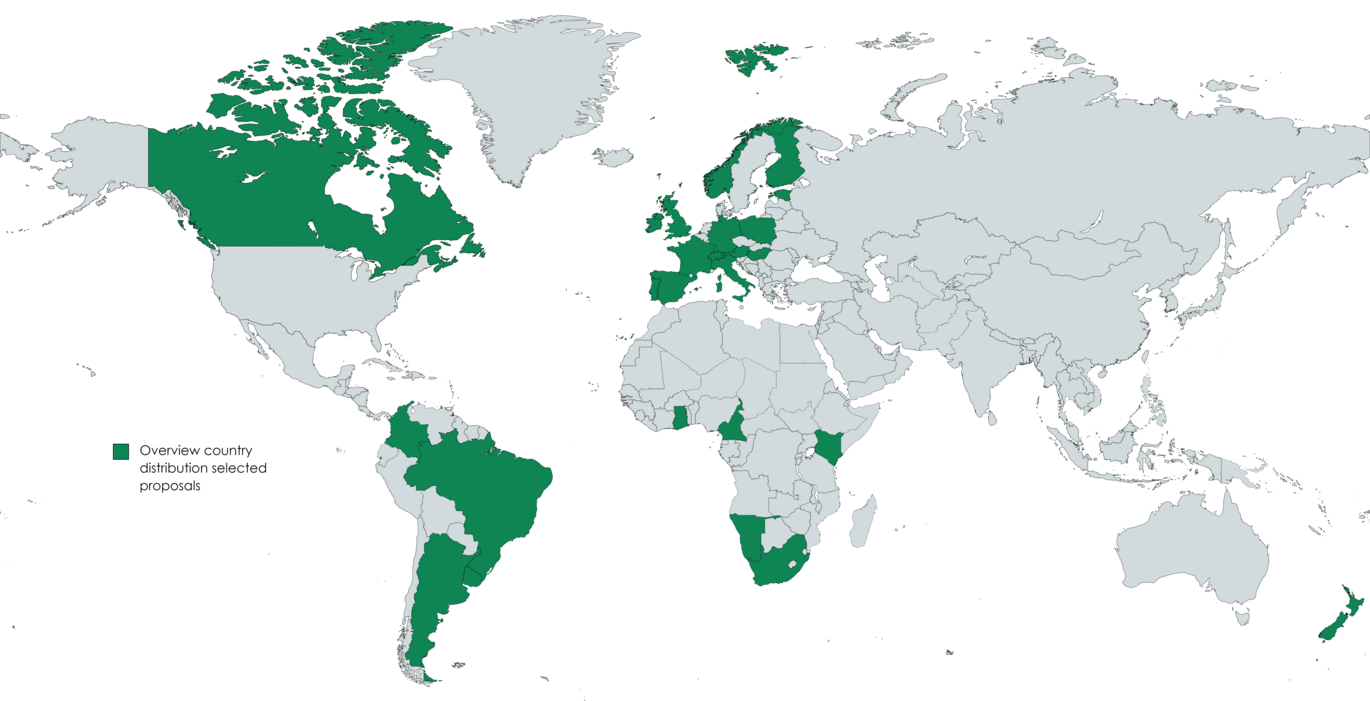 We are proud to announce the 2nd EJP SOIL International Call: Managing and mapping agricultural soils for enhancing soil functions and services. 8 new research projects contribute to the following topics in the EJP SOIL research Roadmap:
Soil restoration practices and management for alleviating land degradation, supporting agro-ecosystem function and maintaining soil organic carbon stocks.

Managing soils in the context of climate change: understanding impacts on C, N and P cycling and greenhouse gas emissions and removals, using data derived from LTEs and benchmark farms.

Research and development of innovative methods and sensing technologies to provide an integrated monitoring and mapping of farm management practices taking also into account physical attributes and vegetation characteristics relevant to SOC sequestration, soil health and degradation.
| | | | |
| --- | --- | --- | --- |
| Acronym | topic | Coordinator | Contact coordinator |
| ClimateCropping | B | University College Dublin | Magdalena Necpalova: magdalena.necpalova@ucd.ie |
| SOIL-ES | C | Brazilian Agricultural Research Corporation (Embrapa) | Rachel Bardy Prado: rachel.prado@embrapa.br |
| TilSoilC | A | University of Dschang | Ndzana Georges Martial: ndzanageorges2006@yahoo.fr |
| SANCHOSTHIRST | A | Universidad Autónoma de Madrid | Maria Jose Marques: mariajose.marques@uam.es |
| CarboGrass | A | CIPAV, Centre for Research on Sustainable Agriculture | Julian Chará: julian@fun.cipav.org.co |
| C-arouNd | B | Brazilian Agricultural Research Corporation (Embrapa) | Mellissa Ananias Soler da Silva: mellissa.soler@embrapa.br |
| FAMOSOS | C | Christian-Albrechts-Universität | Iris Vogeler: ivogeler@gfo.uni-kiel.de |
| AGROCOMPOSIT | A | Budapest University of Technology and Economics | Mónika Molnár: molnar.monika@vbk.bme.hu |
Climate Smart Management for Resilient European Cropping Systems
ClimateCropping aims to provide scientific evidence, mainly based on long term experiments (LTEs), on how management of agricultural soils can contribute to climate change adaptation and mitigation, better cycling of N, P nutrients and other associated co-benefits in European (EU) cropping systems and pedo-climatic conditions. Furthermore, the project will contribute to the parametrisation and evaluation of soil C decision support models.
Soil ecosystem services under sustainable intensification of agriculture: looking for innovative mapping and monitoring at multiple scales.
SOIL-ES aims to develop and adapt tools for mapping and monitoring soil ecosystem services (SES) in agricultural and livestock systems, considering soil processes and landscape characteristics at multiple scale, in areas where there is sustainable intensification, which is defined as a system where agricultural yields are increased without adverse environmental impact and expansion of agriculture to new areas.
The effects of tillage practice on soil carbon sequestration mechanisms.
The overall objective of the TilSoilC project is to determine the effect of tillage practices on SOC accumulation and persistence across a spectrum of young to highly weathered soils in Africa and Europe. The TilSoilC project will investigate a range of common agricultural soil types including tropical (oxisols), Mediterranean (terra rossa, chromic luvisols), and cool-temperate (cambisols) soils.
Cover cropS (CC) ANd soil health and climAte CHaNge adaptatiOn in Semiarid woody crops. THe RemOte SensIng and furTHer scenaRIoS projecTions.
SANCHOSTHIRST is based on four pillars:
Deepen the knowledge of agro-ecosystem functions in woody crops with TT and CC.

A global perspective of ecosystem services provided by CC will be obtained by the identification and quantification of the ecosystem services indicators and the development of a composite indicator through a fuzzy logic procedure.

Improving Remote sensing tools by considering disturbing factors that have been found to affect the spectral response (texture, roughness, iron oxide compounds).

Temporal modeling to describe future scenarios of doing business as usual will be done using the STICS (SimulateurmulTIdisciplinaire pour les Cultures Standard) model.
Impact of grassland management on soil carbon storage.
The objectives of CarboGrass are: to assess the potential of improved grassland management on soil C, nitrogen (N) cycling and soil health across the globe; to analyze how changes in environmental conditions and management affect CS in grasslands; to provide standardized, high quality datasets on grassland soil C/N cycling and management and environmental induced soil C stock changes, allowing to benchmarking ecosystem models and the tailored application of such assessment tools to various grassland systems in different regions; to develop a framework of methods (incl. models) allowing to identify the potential of different grassland management options to enhance restoration of soil C stocks while improving grassland productivity and livelihoods.
Refining Soil Conservation and Regenerative Practices to Enhance Carbon Sequestration and Reduce Greenhouse Gas Emissions.
The objective of C-arouNd is to evaluate the influence of conservationist and regenerative agricultural practices on carbon (C), nitrogen (N) and phosphorus (P) cycling, soil biodiversity and GHG emissions with a particular emphasis on long-term SOC stocks, and processes governing C persistence.
FArm MOnitoring via Real-time SOil Sensing.
The objectives of the project are to identify, through a convergence between information and communication technologies (ICT), laboratory and field experiments and process-based modelling, climate-smart sustainable soil management that
Allows sustainable food production

Increases soil carbon sequestration

Sustains soil health and functioning
Biochar-compost composites for supporting site-specific soil agro-ecosystem functions and climate change mitigation.
The main objective of the AGROCOMPOSIT project is the development of site-specific soil improvement technologies applying composite soil amendments (co-composted biochar and organic wastes) produced from region-specific organic wastes and by-products.
International independent referee committee
18 Funders with a total initial budget of 11 M€ participated in this call (see table ). In sum 6 (1/3) of all participating funders have been funders from outside Europe, emphasizing the International character and need for international cooperation.
Table 1: External Call Board of Funders (EXCBF)
| | |
| --- | --- |
| EXCBF member | Country |
| Global Research Alliance on Agricultural Greenhouse Gases (GRA) | / |
| National Institute of Agriculture Technology (INTA) | AR |
| Brazilian Agricultural Research Corporation (Embrapa) | BR |
| Swiss National Science Foundation (SNSF) | CH |
| Bundesministerium für Bildung und Forschung | DE |
| Ministry of Rural Affairs (MEM) | EE |
| Agencia Estatal de Investigación (AEI) | ES |
| Ministry of Agriculture and Forestry (MMM) | FI |
| French National Research Agency (ANR) | FR |
| National Research, Development and Innovation Office (NKFIH) | HU |
| Department of Agriculture, Food and the Marine (DAFM) | IE |
| Ministry of Agricultural, Food and Forestry Policies (MIPAAF) | IT |
| National Research Fund (NRF) | KE |
| The Ministry of Agriculture of the Republic of Lithuania (ZUM) | LT |
| The Research Council of Norway (RCN) | NO |
| Ministry for Primary Industries (MPI) | NZ |
| The National Centre for Research and Development (NCBR) | PL |
| Instituto Nacional de Investigacion Agropecuaria (INIA-UY) | UY |
| 18 | |
Following the evaluation 8 proposals have been selected for funding based on the ranking list, provided by an International Evaluation Panel (IEP) and the availaibility of funds. The total number of partners within those 8 proposals is 63 spread over 25 countries and 5 continents. The distribution among the continents remain in the same range as for all submitted proposals. Hoewever, alf of the selected proposals have at least one partner from outside Europe, emphasizing and strengthening international cooperation. It is also worth mentioning that half of the proposals are also coordinated by a coordinator from outside Europe: 3 projects by a South American coordinator (Brazil and Colombia) and 1 project from an African coordinator (Cameroon).
8 proposals, 63 partners, spread over 25 countries and 5 continents.
The call office is operated by project management Jülich (Germany), Division Bioeconomy | EU & International Affairs (http://www.fz-juelich.de/ptj):
Dr. Ulrike Ziegler, E-mail: u.ziegler@fz-juelich.de
Dr. Christian Breuer , Email: c.breuer@fz-juelich.de