Research visits to measure and model European soils
The exchange of ideas is essential for scientific progress. Scientific progress thrives on the exchange of ideas. The EJP Soil Visiting Scientists Support programme facilitated knowledge sharing by enabling two junior researchers from Agroscope (Switzerland) to collaborate with institutions in different regions of Europe. Their aim was to improve water availability in soil and increase soil carbon content to mitigate climate change.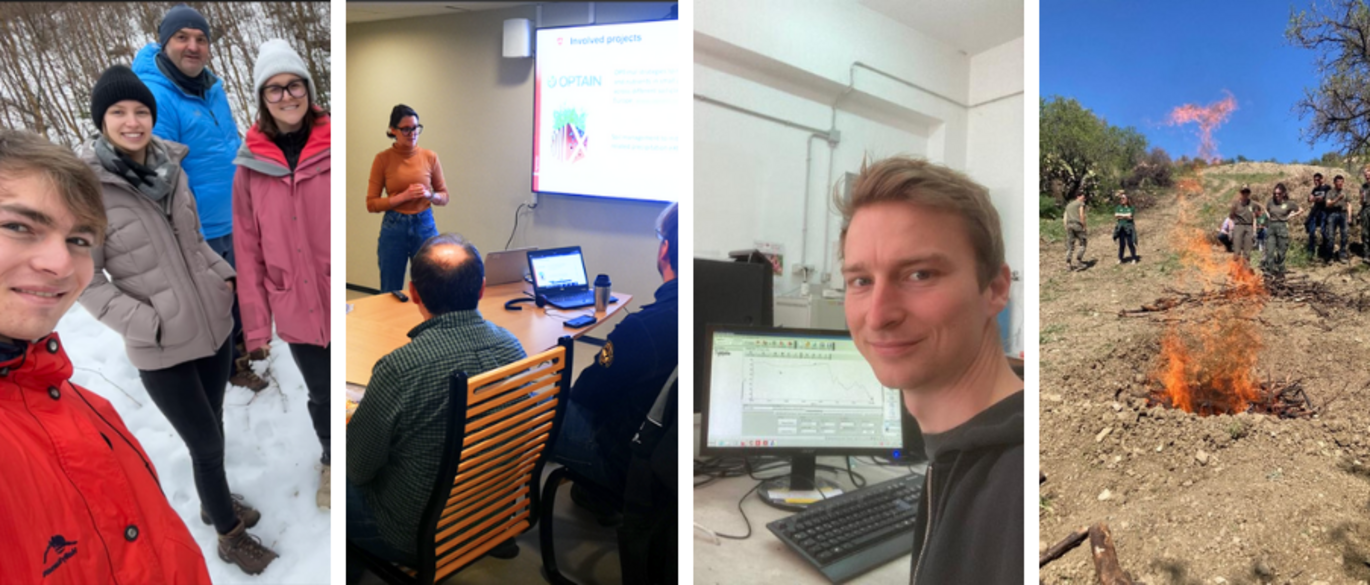 Climate change is affecting water availability in many cropped soils in Europe. Droughts can strongly limit crop production, and the capacity of soils to store and provide water to crops is largely affected by soil inherent properties (e.g., organic carbon content and sand-content), but also by land management. However, significant knowledge-gaps still exits regarding how different land management practices, such as planting of deep-rooting crops, using intercrops or performing different ways of soil tillage, affect the capacity of soils to retain water.
During a research visit at the Norwegian Institute of Bioeconomy Research (NIBIO) in Ås, Norway, PhD researcher Maria Eliza Turek from Agroscope (Switzerland) worked together with local colleagues to better align different soil hydrological models. This is necessary since various models are running simultaneously, in which soil and crop management is represented differently.
During her visit, Maria Eliza also shared her own research conducted within the framework of the EJP SOIL project SoilX and the project OPTAIN.
She also participated in a field trip to learn about data collection methodologies used in soil modeling and how to account for the spatial heterogeneity of soil. With that Maria Eliza could strengthen the cooperation between the two organizations, that will help to determine climate-friendly soil management options on a regional- and context-specific level.
"It was a great opportunity to discuss with colleagues from Norway that work using similar modelling approaches and how they deal with occasional simulation struggles," says Maria Eliza Turek, PostDoc at Agroscope, Switzerland.
Deciphering the chemical structure of char
In addition to water, fire can also play a role in improving crop growth. Biochar is organic material that derives from heating biomass (such as wood or cereal straw) at temperatures between 400-900 °C under the exclusion of oxygen. It has the potential to increase the nutrient and water retention when applied to soil, thereby facilitationg long-term crop growth improvement.
Biochar also contains a significant amount of stable carbon, and the incorporation of biochar into soil is suggested as a measure to store atmospheric carbon dioxide for extended periods, contributing to climate change mitigation. However, many different biomasses with varying mineral contents can be used for biochar production. Therefore, a detailed chemical characterization is necessary to better understand and predict its stability and functionality in soil.
To do so, Jannis Grafmüller, a PhD candidate at Agroscope, Switzerland, visited the University of Palermo in Italy, to analyse the chemical structure of different biochars with varying ash contents by the complementary 13C NMR spectroscopy and infrared spectroscopy techniques.
As a result, he expects to obtain a better understanding on how biochars produced from different biomass materials can be utilized for soil-carbon sequestration, which is one of the research focuses in the EJP SOIL project EOM4SOIL.
Besides working in the laboratory, Jannis conducted a workshop on biochar production for local olive and pistachio farmers in the Etna region. In this fiery introduction, he showed them how to transform their wood prunings into biochar using a low-technology approach directly on their farms.
"With my research visit I gained knowledge and insights into new instrumental analysis techniques, and I can create new personal connections to scientists abroad who are working on similar research topics," says Jannis Grafmüller, PhD-candidate at Agroscope, Switzerland.