Platforms and Maps
---
This LTE overview map contains information about 570 agricultural experiments with a duration of at least 20 years. he following networks are included: EJP SOIL (European Joint Programme), GLTEN (Global long-term experiment network), ILTER (International long-term ecological research), IOSDV (International Organic Nitrogen Fertilization Experiment), NLFT (National Long-term Fertilization Trials, Hungary), RetiBio 2 (Italy).
---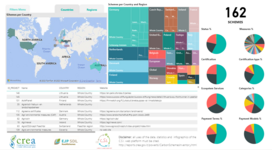 Carbon Schemes Inventories (C.S.I.). A web platform dedicated to providing detailed information about carbon farming schemes in Europe and around the world.
---
Get an overview with this mapping of all internal and external EJP SOIL projects. Click on project names for access to the individual project webpage.
---