This call is open from 30.06.2020 with a closing date for proposals on 18.09.2020
The European Joint Programme "EJP SOIL - Towards climate-smart sustainable management of agricultural soils" comprise 24 countries committed to the overall goal of providing sustainable agricultural soil management solutions that contribute to key societal challenges including climate change and future food supply.
Rationale & Aim of the call
The overall objective of this internal call is to fund research projects open to EJP SOIL partners and linked third parties according to the consortium agreement to fill research and development gaps identified by the EJP SOIL`s "Roadmap for EU Agricultural Soil Management research". Read more detailed information in the document 'Call text of the EJP SOIL 1st Internal Call'. For Word file of document, click here.
---
Application procedure & Evaluation criteria
The Internal Call follows a 1-stage-procedure and competitive selection.
Only EJP SOIL partners and third linked parties can apply. After the closing date for submission all pre-proposals will be checked against the mandatory call eligibility criteria. Depending on the topic and type of project required, the proposal must meet the following specific call eligibility criteria:
The application must be written in English.
Applications must be complete and in accordance to the submission procedure.
Applications must be submitted in time.
Proposals of applying consortia including beneficiaries and/or third linked parties that are NOT EJP SOIL beneficiaries are not eligible to apply and will be rejected.
EJP SOIL participants who are involved in the internal call preparation (i.e. Nils Borchard, Bartosz Adamczyk, Rosemarie Stangl, Pia Minixhofer, Elena Rodriguez) can not participate in the proposals preparation and subsequent research project implementation. For further questions regarding the eligibility criteria, please contact the Call Office (see below).
On the 15th July 2020 a webinar for interested applicants will be organised, which will give an overview about all relevant aspects of the Call (i.e., topics, conditions, requirements, proposal submission, evaluation, etc.) and provide time to answer open questions. More detailed information will be released directly on the submission tool website in due time.
Timeline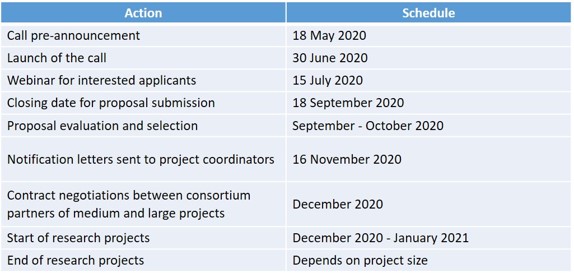 Project types
Interested project consortia should apply to one of these 8 EJP SOIL topics: